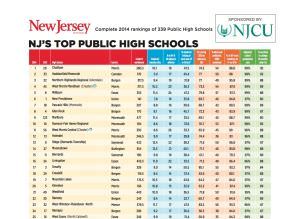 Education in NJ continues to receive accolades as back-to-school time is upon us and the latest publication of the New Jersey Monthly ranking of the 339 public high schools in the state has been released. Click here to see complete listing.
After thorough analysis of the data in obtained by the NJ Department of Education from the 2012-2013 school year, schools in the Sue Adler Team territory are well represented in the top tier. Coming in at #1 overall is Chatham High School with #5 Millburn, #6 New Providence, #16 Livingston, #21 Westfield appearing in the elite top 25. Further regional academic excellence is apparent with #32 Madison, #36 Governor Livingston (Berkeley Heights) and #37 Summit achieving high scores along with Columbia High School (South Orange/Maplewood) with a strong showing in the top 100 as well.
Results were calculated based on review of 9 distinct categories including Grade 12 Enrollment, Student/Faculty Ratio, # of AP and IB Subjects Offered, % of Students Taking At Least 1 AP or IB Test, % Scoring 1550 Or Higher On the SAT, % Scoring Advance Proficient on HSPA Combined Tests, % of AP Tests Resulting in Score of 3+ or IB of 4+, Adjusted Cohort Graduation Rate and the % Enrolled in College 16 Months After High School.
This year's rankings showed significant movement from prior years due to some key changes in methodology. Rather than just report a school's average SAT scores, the DOE now calculates the percentage of students scoring 1,550 or better, a benchmark that it says is "associated with a high likelihood of college success." The 2014 study has also added the postsecondary enrollment rate; the percentage of students enrolled in a two or four year college 16 months after high school graduation. Also, for the first time, this year's analysis includes information on International Baccalaureate (IB) testing. New Jersey has 14 IB schools, each offering the same rigorous curriculum used by more than 3,700 IB schools around the world.
Two additional factors used in prior studies were eliminated: average class size (which is no longer available from the DOE) and the percentage of faculty with advanced degrees. They also stopped compiling separate rankings by District Factor Group, a classification based on a district's relative socioeconomic status ta statistic no longer included in the DOE reports.
This New Jersey Monthly bi-yearly study, combined with a recent report conducted by a finance website called Wallethub concluding that New Jersey has the best school systems in all of the United States (using data from a number of sources, including the U.S. Census Bureau, the National Center for Educational Statistics and the Institute of Museum and Library Services) speaks volumes about the home values in sought after, high ranking districts. For more information on all these towns have to offer in addition to fine schools, contact the local experts, the Sue Adler Team at 973-936-9129 or via email at sueadler.com.