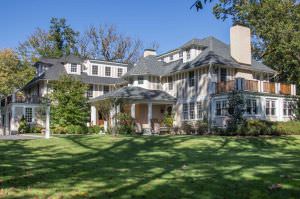 This week, for the first time in what seems like forever, I saw the first signs of spring.  FINALLY!  What a long and arduous winter.  More daylight, melting snow and the early morning sounds of birds and hints of greenery returning to our Midtown Direct communities.
After this incredibly long, cold, snowy winter, spring 2014 promises excitement and new opportunities especially within the housing market in the Midtown Direct and surrounding areas.  With spring comes a whole new inventory of fantastic listings.  I am particularly eager to share a very special home I listed just this week.  Actually,this one is more than special….a 1904 English estate, 365 Hobart Avenue, centrally situated on over 1 1/3 acres in Old Short Hills is a true landmark.  Impeccably renovated in 2005 – 2007 by the architectural firm, The Rosen Group, this magnificent property has been modernized for the 21st century family while maintaining its original character and charm.  I love the fact that the door still bears the name "Linfield" for the original owners – it shows the rich history and deep regard for the past of this Old Short Hills gem.  Beautiful formal English gardens and landscape design also dates back to the original home and is registered with the Smithsonian.  The open floor plan, elegant dark bottom gunite pool and spa complete this one-of-a kind dream home.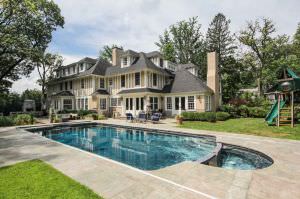 It's the ideal time of year to start shopping the market and seeing what's out there.  Whether you're looking for a picture perfect English estate like 365 Hobart Avenue; a classic custom craftsman home like 434 Old Short Hills Road in Short Hills; a one-of-a kind mid-century modern estate on 7.1 acres rightly entitled "A Home for all Seasons" similar to 27 Washington Valley Road in Mendham; or a true mid -19th century majestic Victorian with an original French Mansard roof exemplified by 117 Burlington Road in Berkeley Heights, these outstanding examples of superb architecture are now on the market.  Take a look at my new listings page and see The Sue Adler Teams exclusive listings .  Communities rich in culture, fabulous restaurants and shopping with top-notch schools characterize towns like Millburn/Short Hills, Summit, Maplewood, South Orange, Madison, Chatham, Mendham, Westfield and New Providence.
Even if you're only toying with the idea of a move or, in fact, in the very initial stages of your search, my team and I welcome your questions and inquiries.  We know the very nuances of the Midtown Direct and area markets and all they offer – after all that's our job.  Reach out, introduce yourself — we can meet over coffee or take a tour of some neighborhoods.  Check out testimonials of past buyers and sellers and see what others are saying about The Sue Adler Team.  We can't wait to meet you this spring!