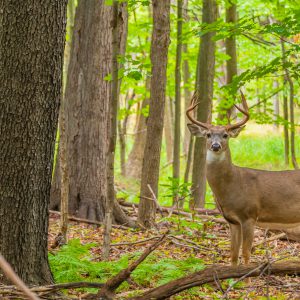 Last Saturday, about 20 animal rights activists protested outside the South Mountain reservation, urging passerby to join them in fighting against the 11th annual deer hunt in Essex County.
"I'm here to protest the killing of the deer, there's no deer left," said Carol Rivielle, a West Orange resident. "I go hiking in South Mountain Reservation and I never see any deer."
The hunt got underway last week on the 2,110 acre South Mountain reservation located in Maplewood, Millburn, and West Orange. Next month, it will expand to the smaller Hilltop Reservation, covering 284 acres in Cedar Groves, North Caldwell and Verona.
Rivielle feels that Essex County Executive Joseph N. DiVincenzo, Jr., a supporter of the hunt, doesn't listen to what the public has to say. DiVincenzo, Jr. provides several reasons for the hunt, including the rise of Lyme disease spread by deer ticks and preserving forest habitat, as well as to reducing collisions with vehicles.
The protestors, part of the Animal Protection League of New Jersey, feel that there are less invasive and violent ways that can be used to deal with the problems DiVincenzo listed, such as chemicals and vaccines that lower the rate of reproduction.
"Somebody has to speak up for these deer," said David Suder. "They have a voice of their own and I'm glad to be a part of this group to try and protect the deer population."
Passerby in vehicles honked their horns in support of the protestors. Some pedestrians stopped to sign a petition against the hunt, which protestors plan to present to the West Orange Mayor and the Essex County freeholders, according to Doreen Frega.
"People are horrified that there is hunting happening 150 feet from their homes," Frega said.
Sue Russell, director of wildlife policy for the Animal Protection League of N.J., also believes the annual hunts are unneeded.
The most recent state-run deer season, which ran from September 2016 through February 2017, killed a total of 49,246 deer. The Essex county deer hunt, however, is separate from the state deer hunt.
Hunters of the state deer hunt were met by a few dozen protestors this past December.
DiVincenzo, in a statement from his office last week announcing the hunt, said,  "Controlling the population by removing deer from South Mountain and Hilltop has proven to be very successful in helping to preserve the forest habitat and maintain our reservations as viable resources for recreation and open space."
In addition to the unnecessary violence, protestors were also concerned about the cost of the hunt.   Rivielle said she had obtained financial records of past hunts through the Open Public Records Act (OPRA) and estimated that each day of hunting costs over $100,000 per day.   According to Anthony Puglisi, a spokesman for DiVincenzo, the cost to Essex County of the 2018 hunt is $44,579.
The South Mountain reservation hunt is scheduled to last for five days, from, Jan 25 to Jan 30, in addition to the three that have already occurred this week.
For more information of the hunts, see:
http://www.nj.com/essex/index.ssf/2018/01/let_them_roam_protesters_say_deer_hunt_is_inhumane.html