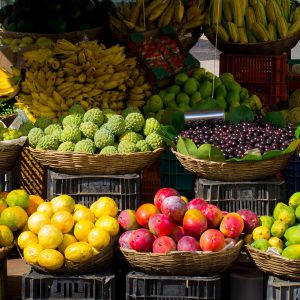 When the calendar nears April, Spring is close and so is warmer weather, longer days and outdoor activities. The season is so refreshing that scientists believe that just its smell causes people to become more relaxed and to even feel joy. The scents of freshly cut grass and flowers are documented to have calming effects, even easing insomnia and depression. Who wouldn't like Spring? The Vernal Equinox. The entrée to Summer. What better way to celebrate but to stroll through an outdoor market. And what better market than the Summit Farmer's Market. April is the perfect time to walk, bike or drive over to the Summit Farmer's Market. Opening on April 22, this outdoor market located near the heart of Summit is the perfect mix of food shopping and family affair. If you're children aren't busy chomping on a pickle stick or devouring duffin (yes, that's a combination muffin/donut), they will be busy petting the dogs that shoppers bring, including what seems to be every poodle mix under the sun. Meanwhile, you will stay busy shopping at the different stands that are selling local produce, meats, breads, gourmet cheeses and other food products. Make sure you try the Instagram worthy acai bowls and kimchi. Sunday mornings at the Summit Farmers Market will sure to become a staple in your household.
Dates: Every Sunday, April 22 – November 18, 2018
Selling hours: 8AM-1PM
Market Location: Park & Shop Lot #2, at the corner DeForest Avenue and Maple Street. Use 22 DeForest Avenue, Summit, NJ for GPS.
Don't miss these other Jersey Direct Farmer Markets starting in the first week of June:
Maplewood Farmers Market
Mondays between June and November, 2017 from 2:00 pm to 7:00 pm
Indiana Street Municipal Parking Lot
Springfield Ave., Maplewood, NJ 07040
Millburn Farmers Market
Tuesdays from June 2 to October 31, 2017 from 9:00 am to 3:00 pm
Main & Essex Sts., Millburn, NJ 07041
Chatham Borough Farmers Market
Saturdays between June and November, 2017 from 8:00 am to 1:00 pm
1 RR Plaza S, Chatham, NJ 07928
New Providence Farmers Market
Wednesdays between June 22 and October, 2017 from 1:00 pm to 6:00 pm
1307 Springfield Ave., New Providence, NJ 07092
Westfield Farmers Market
Saturdays between June and October, 2017 from 8:30 am to 1:30 pm
South Ave Train Station
Corner of South & Summit Ave., Westfield, NJ 07090