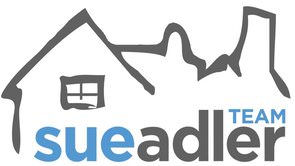 This past Sunday, the awards season kicked off with the Golden Globes, honoring the best in TV and movies with a star-studded gala celebration. Over here at the Sue Adler Team, it seems we are kicking off our own awards season! Not only was Sue recognized by Inman as a Real Estate Influencer for 2017, but the Sue Adler Team has topped the Garden State Multiple Listing Services (GSMLS) statistical charts for the fourth year in a row.
According to the recently released statistics for 2016, Sue's Team successfully assisted nearly 200 clients to buy or sell in the NJ Midtown Direct market, which includes communities such as Millburn, Short Hills, Chatham, Summit, Madison, Maplewood, South Orange, Berkeley Heights, New Providence, Westfield and Livingston. With $150 million in volume, Sue had a resounding lead of more than $21 million over her top competitor and more than $30 million above #3 on the list.
"Making the top spot is no easy feat," according to Howard Bunn, Sue's broker at Keller Williams, "but successfully attaining the #1 spot for the fourth year in a row proves that Sue's team holds the right ingredients for success. Of all her 70+ listing sales in 2016, she averaged 100% sale to original list price ratio. Sue's team knows the market and the art of pricing your property."
It's no surprise that Sue has been awarded top honors year over year. Her incredible marketing intuition and savvy business skills combined with her interactive, award-winning website are just the beginning of what sets her apart from other real estate professionals. Sue has built strong buyers networks locally, nationally and internationally; she creates immediate interest in her listings through a personalized marketing, pricing and timing strategy; and she has an outstanding team that is 100% client-focused. From Transaction Managers to Buyer Specialists to Client Care Professionals, this team makes sure that their listings are red-carpet ready and that their clients, both buyers and sellers, come out winners in the highly competitive real estate market.
So if you are ready for the star treatment that you deserve as a real estate client, look no further than the Sue Adler Team. And who better to attest to that than our past clients – here's what they have to say:
Seemed to work round-the-clock, answering all of our many questions virtually immediately
Sue Adler and her team of professionals made the process of selling our home in Summit stress-free; which speaks volumes if you are in today's hardening real estate market. She made a life-changing event sail through completion from the first meeting to closing. Suffice to say, selling a home is one of the most important financial and emotional decisions for many people, it certainly was for us. Having Sue and her team as our partners steer us through the "maze" helped us find a qualified buyer quickly and fast-track the entire process. Her team seemed to work round-the-clock, answering all of our many questions virtually immediately while providing advice on the myriad of options we had to be sure our home was priced competitively, staged beautifully, and sold in the hottest time of the market place. If you are contemplating who to engage as your realtor, I would tell you — pause, call Sue Adler and you will be glad you did.
Rene Appelbaum, Summit NJ Home Seller
"I'll start with WOW…from the moment that I met Sue….."
I'll start with WOW…from the moment that I met Sue, I was so impressed with her local area knowledge and business savvy. I respected and admired her approach to selling a home. Let's get the price right and the customers will come…even potentially a bidding war. And she was right…at the right price I received multiple offers within 4 days of the listing. All were either above listing or at listing. What made the experience with the Sue Adler Team was her team. Between Sue, Melissa (Listing Success Manager) and Neil (Transaction Manager), I felt completely at ease and they were there when I needed. Because of my situation, I relied heavily on Sue's team, and they delivered. Thanks for all the hard work; I couldn't do it without ALL of you.
Tim Rotvig South Orange Home Seller
The Sue Adler Team cannot be compared to other realtors!
The Sue Adler Team cannot be compared to other realtors! Sue is a powerhouse in every way. Her knowledge of the Summit market is one of her best assets. She timed our listing perfectly. We received multiple offers the first weekend! However, her team's work does not end here. Dawn, the team's transaction manager, was there with us through the rest of the selling process, from the home inspection to repairs to the final walk through. Peter, Sue's husband and our buyer specialist, also did an amazing job in helping us with our purchase. This could not have gone any more smoothly. If we ever move again, we certainly would use Sue Adler and her team again.
Allie and Eric Goldstein, Summit NJ Home Seller & Buyer
The amount we received over the asking price was enough to pay the entire Realtors' fee!
Professionally, the Sue Adler Team can't be topped. Sue personally evaluated my home, which I had added a mission-style addition that increased the floor space by nearly 50% and made the home unlike anything usually found in Glenwood. Sue genuinely appreciated the love and care put into the upgraded design, and priced the home accordingly. Then Sue's listing success manager (Melissa) put me in touch with contractors to finish projects and perfect the home, and high school/college kids to help de-clutter. Then, she actually, physically, helped me move "stuff" into the garage in preparation for the photo shoot. The photographer took great photos of both inside and outside, capturing many of the more subtle upgrades, for the brochure. We hit the market Thursday, and by Monday we had three offers over asking price! Then, Sue's post-closing "Transactional" team took over. Dawn advised on and helped negotiate and resolve the home inspection issues, made sure all the Addition's permits were closed out (who knew?), set up all the inspections needed, picked up the permits, took care of access to the house for the town inspections so I could stay at work and even picked up and installed the kitchen fire extinguisher required by code (again, who knew?). The amount we received over the asking price was enough to pay the entire Realtors' fee! On a personal level, the entire Sue Adler team was sensitive to the fact that I was going through a divorce, tackling this project, both enormous in size and in emotional difficulty, by myself. They were sympathetic, supportive, motivating, helpful, all at the right time. I was never alone in this project.
Leslie Sinemus Short Hills Home Seller
If you would like a consultation on what your home is worth in this market and tips on getting it ready to maximize your profits, please give Sue a call at 973-936-9129 or email [email protected].