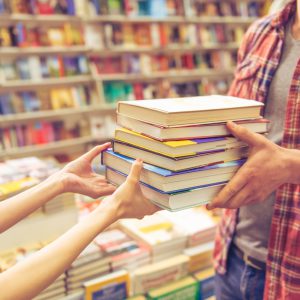 Words bookstore, a fixture of the region's literary scene, will be opening a new location at the special needs learning facility in Livingston called "Lifetown."  Words Bookstore said that its new store would be part of Lifetown, a 53,000-square-foot facility opening under the auspices of the Friendship Circle that aims "to redefine the recreational and educational landscape" for individuals with special needs. The new store, like the Maplewood main branch, is intended to be a "community literary hub" that offer vocational training for individuals on the autism spectrum, according to shelfawareness.com.
The new location will be one of the storefronts in the facility's "Life Village," a simulated town square with street lights, sidewalks, traffic lights, and shops that hopes to give each special needs resident the tools and nurturing environment to learn and grow. According to its developers, Lifetown – a $15 million, 53,000 square foot facility in Livingston – will offer a "unique learning oasis" for 6,500 special needs students in Essex County when it's finished.
According to a Patch article from 2009, Words has a long history of being a supportive environment for special needs kids. The owners, Jonah and Ellen Zimiles, who have a son who was diagnosed with autism, have made it their mission to provide job training for special needs adults and children down the road.
The Lifetown ShopRite will help students learn the ins and outs of money management, following a shopping list, choosing healthy food, and waiting in lines. According to Shop Rite representatives, young adults with special needs will also have the chance to learn how to stock store shelves, work a register, bag groceries and more as part of job-preparation training.
The new location of Words intends to sell a selection of bestsellers, Judaica, and children's books, as well as a wide array of titles focusing on special needs.
"We have served our neighboring communities of Livingston, Millburn/Short Hills and West Orange for nine years, and we hope that our Lifetown location will enhance our ability to do so," Words Bookstore's owner Jonah Zimiles said. "In the long-term, we hope to bring author events to Lifetown, which will provide us with another location for large offsite events."
The Lifetown project will also offer volunteer opportunities for more than 2,000 teens, college students, and adults, developers said. Other sponsors include RWJ/ Barnabas Health, Regal Bank, DCH Audi and Healthcare Foundation of New Jersey.
Work on Lifetown was entering the final stretch in December.
For more information of Words past involvement with aiding those with special needs, see: https://patch.com/new-jersey/maplewood/words-bookstore-where-the-story-is-community
For more information on lifetown, visit: https://patch.com/new-jersey/livingston/livingston-s-15m-lifetown-will-be-2nd-home-special-needs-youth-video